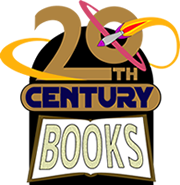 About Us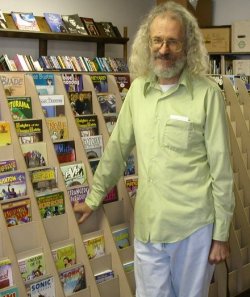 Hank Luttrell
20th Century Books is a popular culture bookstore and bookseller formed in 1979 in Madison Wisconsin by Hank Luttrell, specializing in new, used and rare science fiction, fantasy, comics, mysteries and all sorts of related popular culture topics. We sell books and related items mail order through various web based platforms including our "Amazon"
store, our "Ebay" Store, and our Biblio.com store.
If you are planning on visiting the Madison, Wisconsin area plan on visiting our "real" store at 1421 South Park, Madison, WI 53715. We are open Monday-Saturday from 10 until 5:30, and Sunday noon until 5:30. Take a look at our South Central Wisconsin Bookstore Directory for ideas about other book browsing opportunities in the area. And please feel free to email us any time!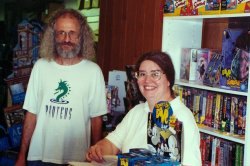 Co-owners Hank Luttrell and Debra Daemmrich
As many items as we list in our internet catalogs, we are always working on adding inventory, and we can never list everything. If there are particular titles that you are looking for, let us know, send us your want lists. Or your questions. We have customers and contacts all over the world, and if we don't have, or know, what you need or want to find out, we can probably help you in some significant way.
Hank's Bio
I was born and raised in St. Louis, a baby boomer, and as a teenager was one of the founding members of the local science fiction fan group, known as OSFA. In 1969 I was a member of the St. Louiscon World Science Fiction Convention committee. In the early seventies I helped start a science fiction fan group in Columbia, Missouri, and then in Madison, Wisconsin when I moved there.
I sort of became known as a Typhoid Mary of fandom at that time, or sometimes The Mimeo Man because of my tendency to print all of my friend's fanzines with my mimeograph (A Whatograph?). The fanzine I published in the sixties and seventies, "Starling," was nominated for a Hugo and was voted one of the best fanzines in the Locus poll many times.
I was one of the founders of the WisCon science fiction convention that has been held in Madison since the mid-seventies. I like to claim to be the most senior continuously serving Huxter Room Manager in the universe. I've written professionally and as a fan about science fiction and comics since the early seventies, including a long chapter about the history and culture of science fiction conventions in Joe Sanders' book, "Science Fiction Fandom".
I started selling books and comics at SF conventions and other events, and by mail order, in the sixties, and opened my first store in 1979. I also consult with small publishers, authors and booksellers about promotion, marketing and distribution.
Debra Daemmrich joined 20th Century Books in the early eighties at what was then a branch location at a mall on the west side of Madison. She soon became the manager of the main store, then located just off Madison's Capital Square, earned a degree in Information Science from the University of Wisconsin, and in 1988 Debra and I were married.